A construction defect is a term nobody wants to hear mentioned about their project. But what is it, exactly? Simply put, a construction defect is a deficiency in the design or construction of a building or structure. It can cause big headaches for everyone involved.
Construction defects can take many forms. They can occur in brand new buildings, renovations, or other smaller construction projects. Most defects are minor and inconsequential. However, depending on the defect, it has the potential to be dangerous and very costly.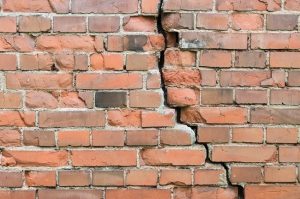 You may also hear the terms "patent" and "latent" referring to the classification of construction defects. Patent defects are those that are obvious upon inspection. Latent defects, on the other hand, are those that are concealed or otherwise not obvious, and often not even found by someone inspecting the project thoroughly.
3 Main Types of Construction Defects
Design Defects. These types of defects have to do with a design professional's failure to produce accurate design documents. This can either occur by error (which could require redesign, replacement of a part, or similar), or omission (which can usually be remedied by being added to the project with a change order).
Material Defects. These defects refer to damaged or inadequate building materials. When the defect comes directly from the manufacturer, the defect may not be discovered until it has already been used in the project. This results in increased expenses and time to complete the project due to increased labor cost and waiting for replacement parts to come from the manufacturer.
Workmanship Defects. These defects occur when a contractor fails to complete the project in accordance with the design documents, code requirements, or standards of care. Workmanship defects can range from a minor, aesthetic problem, to major issues affecting the structure of a property.
Minimizing the Impact of Construction Defects
Regardless of whether the problem is minor or major, it is important to be aware of potential problems along the way during the project. Often a defect is not discovered until long after the completion of the work, which costs more money and time to resolve. There are proactive measures you can take to decrease the chance of having construction defects occur.
Review the Contracts. Make sure contracts outline accountability and responsibility for all aspects of the work to be performed. Keep an eye out for language about responsibilities, liabilities, and risk-shifting.
Review Insurance Coverage. Have a clear understanding of your liability coverage. Make sure everyone involved in the project has sufficient coverage.
Quality Control. Implement a quality control process from the beginning with all parties in the project involved. A collaborative effort helps protect everyone. In the site assessment process, you might include a daily report system. This can help detect issues earlier, which costs less and saves time and headaches in the long run. Keeping daily inspections well-documented provides a record that may prove to be useful down the line if a problem occurs. It is crucial to document the entire construction process, no matter how trivial something may seem. This way you have a solid record of materials used and practices utilized during the process.
Inspections. Be aware of the inspections required for your project (building departments, federal and state occupational health agencies, fire departments, etc.).
Time is of the Essence.If a defect is discovered, present it to the party responsible as soon as possible. Then, determine how to proceed.
Assembling the Right Team to Avoid Construction Defects
If your homeowner association is approaching a new construction project, it is crucial to have the right team in place. We recommend hiring a consultant or construction manager who is aware of all the building codes and standards in your area. Make sure you research who you choose to hire. Look at their credentials, experience, and skill sets.
Everyone involved with a project must do their part to avoid defects. This includes the design team, the construction team, and the management team. Documentation, having quality control programs in place, and straightforward, timely communication are the most effective ways to minimize defects, which will help avoid time delays, cost, and stress for all parties involved.
What to Do When an Individual Owner Discovers a Defect
When an owner in your homeowner association discovers construction defects in a portion of the property which the association is obligated to maintain, he/she should report the problem to the manager or, if there is no manager, to an association officer or director. The association is obligated to repair the damage under the governing documents, regardless of whether the developer is ultimately responsible. The board is required to exercise prudent business judgment in deciding whether to attempt to perform repairs immediately or to first seek to recover repair costs from the developer.
When an owner discovers construction defects in a portion of the property which the owner is obligated to maintain, he/she must repair the damage under the governing documents. The repair obligation exists regardless of whether the developer is ultimately responsible, or whether a previous owner or real estate agent has violated disclosure laws. If the owner fails to repair, the association may do so and assess the costs against the owner. The owner may be entitled to recover his/her repair costs from the developer, a previous owner, or a real estate agent, and should consult an attorney.
What to Do When an HOA Discovers a Defect
A homeowner association should consult an attorney as soon as it discovers construction defects. Failing to act quickly could result in the loss of recovery rights. The law contains extensive requirements, deadlines, and procedures for construction defect dispute resolution.
How AMS Can Help your HOA
The Community Managers at Association Management Services NW are among the most experienced in the business. You will have the full support of the AMS team, which provides the tools, resources, and contacts needed to manage and care for your association, and deal with problems when they arise. Find out more about our services, and request a proposal to find out what we can do for your community association.