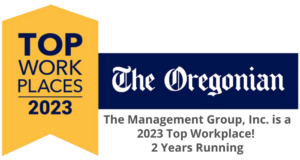 TMG RECOGNIZED AS A TOP WORKPLACE FOR THE SECOND YEAR IN A ROW!
October 12th, 2023 (Vancouver, WA )
AMS is proud to be a part of The TMG Family of Companies, which was recently given a prestigious spot in the Oregonian's list of Top Workplaces 2023. For the second year in a row, TMG has been named amongst the best of the best places to grow your career in the Portland Metro Area.
AMS is honored to be an integral part of the corporate family alongside TMG, and we take great pride in this association. This accolade serves as a compelling testament to the exceptional workplace culture that thrives within TMG. As a part of the family of companies under the roof of TMG, AMS is a big part of the positive culture that has been highlighted by the invaluable feedback of our dedicated and hardworking team.
At the TMG Family of Companies, we are proud of our unparalleled company culture that truly sets us apart from the rest. From the moment a new employee starts, we ensure they're given the best training so they're set up for success in their position and offer exceptional ongoing training as they continue to advance in their role within in the company. We are inspired and motivated by growth; we care about our employees and want to help them reach their career goals, whatever they may be. That's why we promote from within and offer unparalleled developmental opportunities along the way.
This year, approximately 34,000 employees from across the Pacific Northwest region actively participated in evaluating their respective workplaces. We are exceedingly pleased to find ourselves ranked among the top 134 workplaces in the region, a distinction that reflects the high regard we have for our employees and the work environment we have cultivated.
AMS employs a first-class team of Association Business Managers who oversee the operations of the HOA, working closely with the board - collecting dues, paying bills, budgeting, handling repairs, coordinating vendors, handling requests from residents, ensuring neighborhood compliance with the rules, overseeing board meetings, keeping up on laws that affect the HOA, providing free board member education, and much more. We have an in-house team of Assistants and an Accounting Department to support the HOAs we manage.
Our Member Services Department handles phone calls from HOA residents, helping them get logged into their community's website, setting up online payments, requesting architectural reviews, reserving clubhouse time, and any other needs they might have.
Discover what sets the AMS as part of the TMG Family of Companies,  and explore our open opportunities to start the next rewarding move in your career HERE.